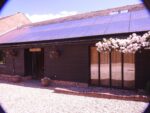 Short Description
Centre for Peace and Self Development
A beautiful purpose built home of healing.
Our dream is to create a peaceful facility where people can come together. A facility where people can receive complementary treatments and follow classes and workshops to increase well-being physically, mentally and emotionally and spiritually.
THE AIM IS TO HELP YOU TO FEEL BETTER EQUIPPED TO FOLLOW YOUR OWN PATH AND DREAM IN THIS WORLD.
The Manor Barn is a converted 19 century Barn on the grounds of the Old Manor, which is the original Manor House there for about the last 1000 year. It is even mentioned in the Doomsday book.
The location is on the outskirts of the historic medieval city of Canterbury. Though very peaceful surrounded by fields and about 200 meters away from Larkey Valley woods which are amazing to have a walk in.
Free parking is available in front of the building for about 10 to 12 cars. Also on the road is parking possible.
Send Message to listing owner