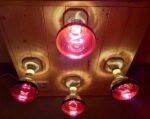 Short Description
At Detoxify Me we love Near Infrared therapy because it is so effective, yet gentle and safe on the body without any nasty side effects.
Description
Our portable Infrared sauna units are handmade in our Kent workshop. We only use natural untreated wood and no toxic glues. For more information see our website www.detoxifyme.co.uk
Saunas have been used for thousands of years to heal and detox the body. 
But which type of sauna is best?  Well there are 3 x types, these include Near Infrared (NIR) which uses infrared light and heat with lamps, traditional saunas use just heat and Far Infrared use infrared light and heat through carbon panels. 
visit our shop at www.detoxifyme.co.uk
Send Message to listing owner